Tinder 2021 Review: Is it everything you want it to be?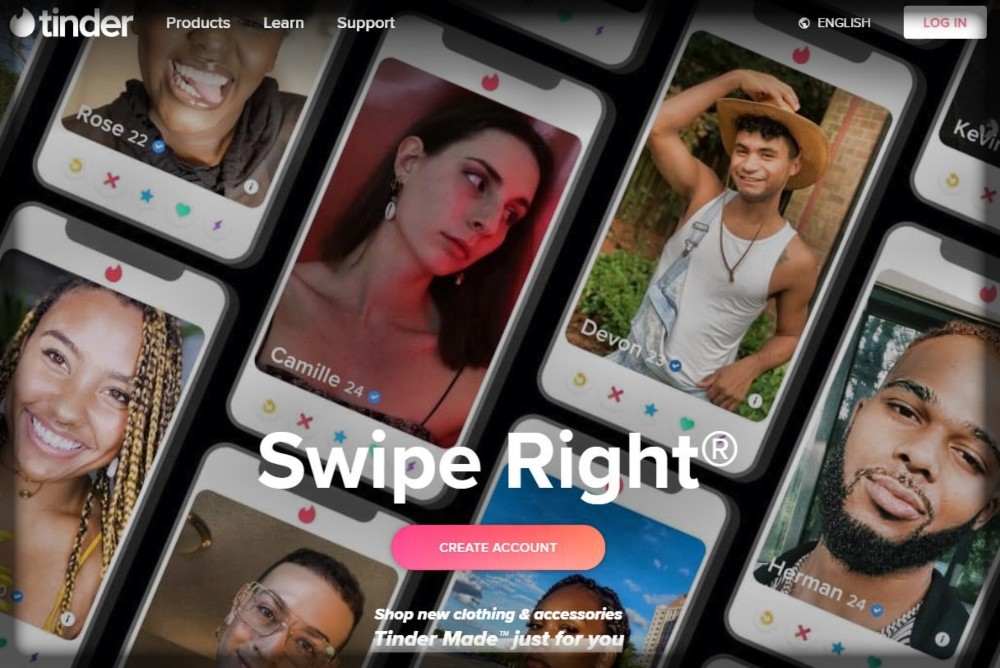 There's nothing like putting yourself out there — again — in the hopes of finding someone you actually want to spend time with. Whether you've been recently burned or you're coming off a year-long hiatus inspired by quarantine, getting back out on the scene can be challenging.
If it's been a while since you've tested the water, though, times have changed. Say goodbye to awkward speed dates and stressful singles meetups. Now an app can take the pressure off and maybe connect you to your next partner in crime. The real question is — which app will work best for you?
There are quite a few out there and Tinder is a front runner. Before you commit, here's what you need to know about it — the good, the bad, and even the ugly
Features
Boost feature gives you a better chance of finding the right Match by boosting your profile for thirty minutes, during which time members have the opportunity to right-swipe you.
The super-boost feature takes your profile to first place in the queue for searchers.
Super-like feature allows you to "super-like" your top choice of the day. The lucky recipient of your blue star super-like icon tells him or her that you think they stand out above the competition.
Pros
Fun to Use
Free options available
Cons
Matches are based only on pictures
Premium Version is expensive
Tinder 2021 Review: Is it everything you want it to be?
Tinder: The OG Dating App
Tinder has a reputation for being the be-all-and-end-all when it comes to dating apps. One of the first on the scene, the left, and right swipe system is so successful it's been replicated by many apps that hit the scene later on. While some others have come and gone, Tinder keeps going strong. It's part of the reason people continue to turn to Tinder when they're looking to meet new people.
Along with that popularity, though, has come certain expectations for (and from) those who use it. Tinder is all about the hookup — less about relationship building. People shopping on Tinder for their next date are looking for the specimen that perfectly matches their physical ideal, and that does mean potentially great couples might never get the chance to meet.
Another perk to using Tinder? It's a great choice when you're looking for someone who's physically near you. At a social event, a sports outing, or enjoying a day out at the park? Pull up Tinder and you may find there's someone in the same boat you are. Just get swiping.
Upgrade Your Tinder Experience
While the basic app will cost you nothing, you can choose to enhance the experience by opting for upgrades. For ongoing access to an upgraded experience though, you'll need a subscription. You can opt into Tinder Gold for $29.99 a month or enjoy the Tinder Plus experience at just $19.99 per month. Of course, price breaks do exist if you're willing to commit to a longer contract. A Tinder Gold subscription will still run you less than other dating services out there, like Match or eHarmony.
Not quite ready to commit to a long contract? Individual Boosts can be purchased for $3.99 apiece and Super Likes will set you back $0.99.
FAQs
Have a few questions before you install Tinder? Here are some of the most frequently asked questions we see.
Who can use Tinder?
If you're over the age of 18, you can make a profile on Tinder.
Can I set preferences for who I'm matched with on Tinder?
Yes. In your settings, you can choose the age range of those users you want to be matched with. Tinder has also added a sexual orientation feature to help ensure you're matched with someone you'd be interested in.
Will I be matched with inactive users?
Tinder will only show you matches that have an active account. This means you won't be paired with someone who's been happily coupled for months and hasn't logged into their Tinder account. Rest assured the people you're matched with are actively looking — and you might be just what they're looking for.
How do Super Likes work?
A Super Like sends a notification to the user you choose to use it on. That user will know you've sent a Super Like their way before they make their final swiping decision. This, according to Tinder's statistics, increases the chance of a positive response by three times and conversations are reportedly 70% longer.
What do I get with a subscription?
Tinder subscriptions give you access to a certain number of Super Likes and Boost a day. You also have unlimited likes, can unswipe if you've made a mistake, and more people will see your profile. If you plan on using Super Likes or Boosts often, you may find a subscription is more cost-efficient.
Start Swiping With Tinder
If you've been on the fence about getting started with a dating app, it's time to make the leap. Tinder's clean interface and addictive swiping format are the perfect way to get back in the game. With plenty of options, including different subscription levels and personalized match settings, you'll get an experience that's customized to you. Don't take our word for it, though. Install and start swiping to see what the fuss is about.